Disney NuiMOs Outfit - Daisy Jumpsuit with Crossbody Bag and Bucket Hat, New
Recommended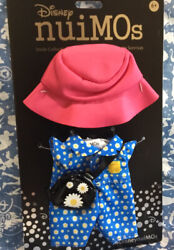 DisneyNuiMOsOutfitDaisyJumpsuitwithCrossbodyBagandBucketHatNewSetincludesjumpsuitbagandhatJumpsuitfeaturesalloverdaisyprintCollarshortsleevesandscreenartpocketCrossbodybagfeaturesscreenartdaisiesTwillbuckethatDaisyJumpsuitwithCrossbodyBagandBucketHatfitsanyDisneynuiMOsplushPartoftheSmileCollectionPartoftheDisneynuiMOsCollectionShippedUSPSFirstClassIdooffercombineshippingonmultiplepurchases
US $15.99
Product Information
Condition: New
Houma, Louisiana, US
Created on Jul 20, 2022 (6 months ago)
Brand: Disney
Item Number: 204043525867
eBay Money Back Guarantee
Seller information
Delivery Options: Ship To Home Est. Availability Status: In Stock Est. Available Quantity: 1 Est. Sold Quantity: 1
Item Specifics
Brand:

Disney
Convention/Event:

Smile Collection
Character/Story/Theme:

Nuimos Outfit
Year:

2022
Featured Refinements:

Disney Goofy Plush
Franchise:

Disney
Shipping, returns & payments
Shipping Service Code:
Usps First Class
Shipping Carrier Code:
Usps
Quantity Used For Estimate:
+$1.00
Min Est. Delivery Date:
Feb 6, 2023
Max Est. Delivery Date:
Feb 9, 2023
Additional Shipping Cost Per Unit: Free
Shipping Cost Type:
Fixed
Payment Options:
Returns Accepted:
Seller agrees to accept returns
Refund Method: Money Back
Return Shipping Cost Payer: Buyer
Return Period: 14 Days
Refer to
eBay Return policyopens
in a new tab or window for more details.